Blog
See usefull information for your next trip to Chile
Marble Chapels of Patagonia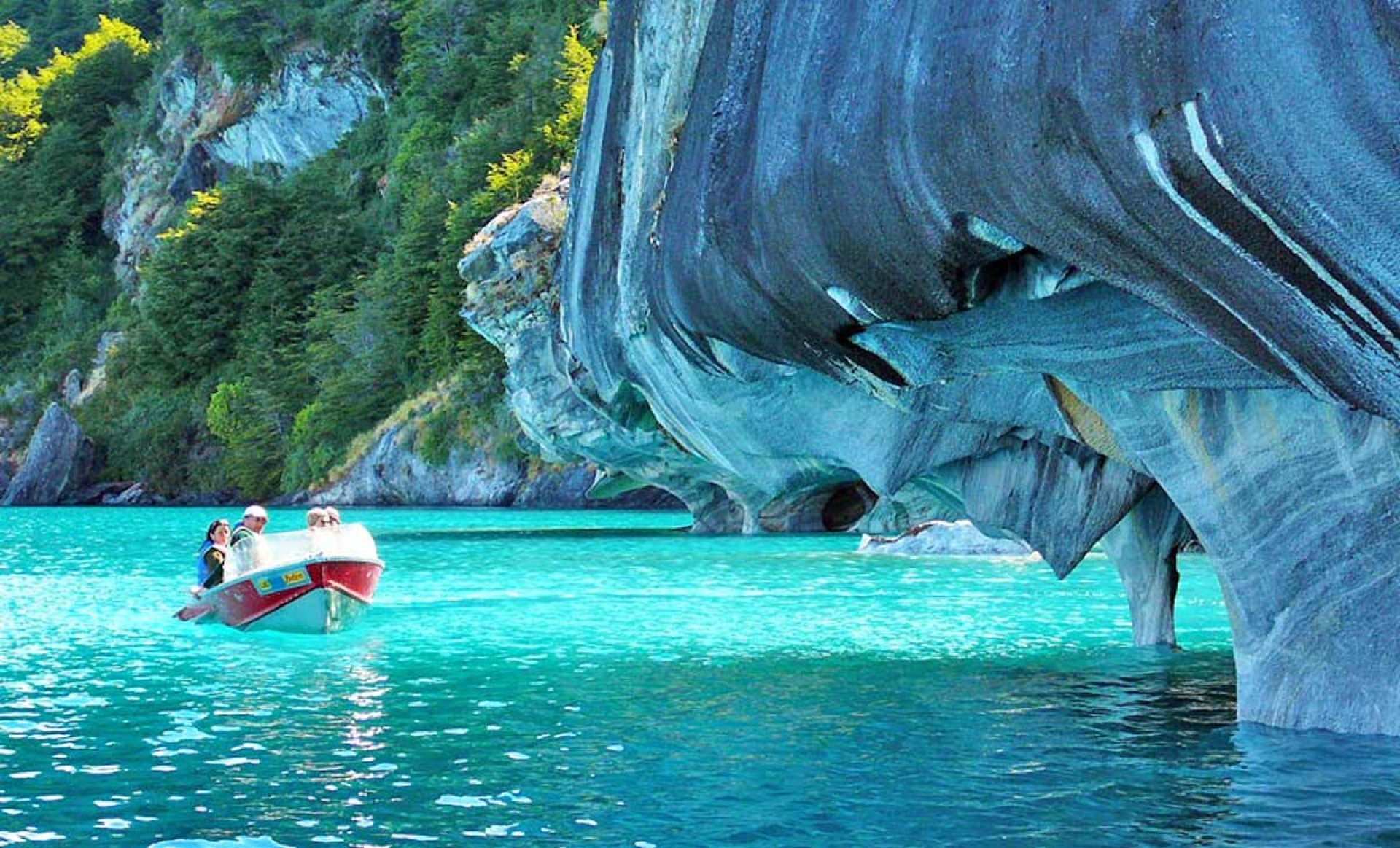 The "Capillas de Mármol" or Marble Chapels, also known as the Marble Cathedrals, are one of the most important tourist attractions in Patagonia. Composed of three limestone formations, they stand out for the beauty of their columns and the intense blue of the waters that protect them.
The Cathedral, La Capilla and La Cueva, sculpted on the shores of Lago General Carrera in the Aysén region, make up one of the most beautiful landscapes of southern Chile and one of the favorite destinations for lovers of photography. They are part of the route of Carretera Austral and have been protected by law since 1994 when they were named Nature Sanctuary.
Sculpted along millennia by the wind and the lake, the Marble Chapels impress visitors with the calcium carbonate formations that can be seen over an area of ​​300 meters.
To see them, it is necessary to take a boat that can also travel the chapels from inside.
HOW TO GET TO THE MARBLE CHAPELS?
To get to the Marble Chapels from Coyhaique, you have to take the Carretera Austral southwards to the small town of Puerto Río Tranquilo on the western side of General Carrera Lake.
From that point the guides take people on a navigation to the Marble Chapels on a trip that lasts an hour and a half.
WHAT IS THE CLOSEST CITY TO THE MARBLE CHAPELS?
The closest city to the Chapels of Marble is Coyhaique, capital of the Aysén region and base point for tourism in the area. Located 240 kilometers from the Chapels, it is a city with good gastronomic and hotel offer. Closer to the Marble Chapels, is the small town of Puerto Río Tranquilo.
WHAT CLOTHES DO I NEED TO TAKE TO GO TO THE MARBLE CHAPELS?
The climate in Patagonia is difficult to predict, so it is always recommended to take shelter or windbreak to the Marble Caves.
WHAT OTHER PLACES CAN YOU VISIT NEAR COYHAIQUE?
The most popular tourist attractions in the surroundings of Coyhaique include the San Rafael Lagoon National Park, the Exploradores Glacier and Cerro Castillo National Park.
Credits: GoChile